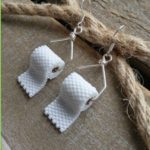 I thought this was very relevant and a bit of fun for us to have a it of a laugh at. Don't forget to email your photos of the rolls, love to see what they are like on?Here for your Free Pattern
So Christmas is just around the corner, So I have this very cool snowflake to make. I will be showing how to make this at WAW, click here to download your free pattern
We've created some free projects for you to enjoy! Please pop back and visit our site, as new free projects will be added regularly.
August 2019, Its all about the peyote Stitch. Click here to download your free pattern…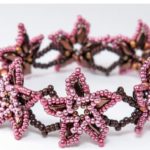 July 2019. Loving this little Whirls pattern from Bead Origami, click here to download free pattern….
July 2019- Paper craft.
Inspirational page layout, perfect way to use your scrap pieces of paper.
Try the new Circle cut thin cut circles  with stitching. click here to see more…..Thin Cut Circle with Stitch
Simply click on the title or download here..
Here are some instructions also on how to open a jump ring
Cool heart project that's quick and easy. Can be made into a necklace or make two and make earrings.  Download here
Quick and easy fun project, see our cool colours in leather here...Download…
A very cool pattern for National button day! Source bead and Button Download..
Simple instructions on how to open a jump ring and make a very simple but stunning necklace. Download…
A simple project of crimping for you to create. We have kits available with all the ingredients to make this bracelet or a great way to use those orphan beads. Download
We thought we would share the love, we have had so much fun with this! Come to the shop and see the full range of resin products to make your designs. bezel seting instructions
We have some new beaded creatures kits, we are using waxed thread rather than wire, better for the little fingers!!! Download
We love these new little beads, we just had to share the love! enjoy.
The latest trend to hit beading, its all a bit spiritual